Food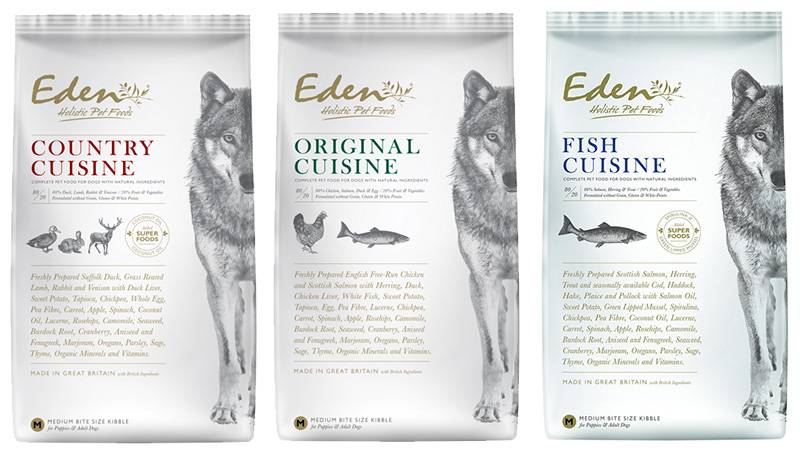 In March 2015 we went to Crufts with the mission of finding another food to offer our customers. Our criteria were that it had to be grain free, high quality meat, good value for money and if possible, British. And so began our relationship with Eden Holistic Pet Foods. Eden is an independent family owned company based in the rural conutryside of Staffordshire. Formed in 2011 their aim is to produce foods that support the health and vitality of animals.
Taken from the Eden website, this sums up their philosophy;
Eden has a very simple philosophy that is perfectly summed up in our tagline "Supporting Animal Health Through Nutrition"™ The core beliefs that form our philosophy can be found in more detail on our nutrition page, but in a nutshell we will always promise to:
Produce only the very best foods possible that are 100% Natural
Never use grains and cereals, animal derivatives, fillers, sweeteners or flavourings in our food
Openly list all ingredients – including the amounts of the main ingredients that our food contains
Use the highest level and quality of ingredients where possible from within the UK
Use the ingredients listed, nothing more, and nothing hidden
Use accurate descriptions and never use misleading information to hide the truth about the contents
Never create misleading packaging with pictures of ingredients that don't represent anything that is inside the package or use jargon to hide the truth about our food
We are happy to offer all three flavours – Original Cuisine, Fish Cuisine, Country Cuisine – in all three sizes – 2kg, 6kg and 12kg – in both small and medium kibble. Available online from our shop, or from classes, we offer free delivery in Hampshire so get in contact with us if you are interested, armchairdogs@btconnect.com, 023 8046 5429.
Liver Cake

Lots of people ask us for this, so here is the recipe for the Liver cake.
Liver cake:
1lb Chicken liver
1/2lb Self-raising flour
1 egg
Pinch of garlic powder
Blend the chicken livers until smooth. Add the egg and blend in. Fold in the flour and the pinch of garlic powder. Put into a non-stick baking tray and bake for approx 1hr at a low heat, around 150C. Check to ensure it is an even colour all the way through, before leaving to cool and chop. It can be frozen and defrosted when needed.
If the thought of liver is too much, you can supplement the liver with tuna, sardines, sausage….. I have even made tuna, sardine and banana cake (I had run out of eggs hence the banana to help it bind!) As long as you check it's fully cooked and use it for treat/training purposes only then it shouldn't add too many calories!